Alexander Weiss has presented a poster referring to ROMEO in the frame of a symposium of his Department of Chemical and Biological Engineering (CBI) at the FAU in Erlangen.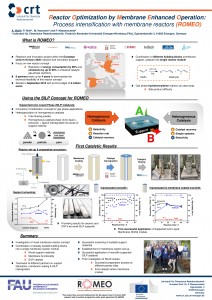 Reactor Optimization by Membrane Enhanced Operation: Process intensification with membrane reactors (ROMEO)
A good opportunity to highlight the project in face of several hundred students and researchers!
The CBI symposium was organized by the scientific young people of the Department, on Wednesday the 10th of May. It enabled to know more about the research work, which is currently realized by the study groups of CBI, through short overview lectures and the exhibition of over fifty posters from all institutes of the Department.